I was at the ortho again last Sunday. Doc Erich wanted a weekly adjustment cuz he's moving my lower molars backwards. And since I brought Princess (my no-line charm) along, I didn't have to wait for my turn. Doc Erich was even at the second floor gaming shop when I passed by. He was seated in the computer near the door so he could see if someone's going to his clinic at the third floor. He occupies the whole third (and last) level so whoever goes up the stairs must be going to see him. I was really lucky cuz two patients were already waiting in line when I went out.

I was going to buy slippers so we went to SM afterwards. I needed to buy one cuz Juansen got my favorite pair. Well, okay, accidentally got. He was wearing it during their last day of stay here last holidays and his mom was already throwing a fit when they were about to go cuz Juansen was still in front of the PC and he's the only one not in the car yet. The poor kid wasn't even able to change slippers.

I gave up looking for Havaianas in SM Bicutan so I went straight to Chris Sports to just buy any pair I would fancy. They had good ones but but limited sizes - size 10 up. I'm only size 8 on slippers. LOL!

Went to Bench which was just beside Chris Sports but they wouldn't let me in! LOL! They wouldn't allow pets, even small ones, inside. To think that Princess was in a bag! BENCH IS NOT ANIMAL FRIENDLY! I wouldn't buy anything from them anymore unless they allow pets inside their stores.

And since SM Bicutan has so limited stores, I had no place else to go for thong slippers other than Penshoppe! Yeah they're pet-friendly. The lady even carried the pet bag and followed me along while I went shopping. Bought two pairs and a shirt. They're having a sale on all items. And their shirts have really good fit.

Anyway, back to slippers. I was thinking of buying four pairs but I thought of my mom. She'd find it ridiculous and to avoid discussions, I only bought 2.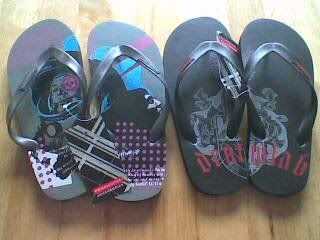 I like the black one better than the other.

Also dropped by my favorite computer store, the ever-friendly Asianic. Haha. They really, really give me great discounts on anything they have. They even call the main office sometimes to ask if they can lower the price a bit more than what they could offer at the branch.

And since I bought more stuff than what I originally planned, I bought an eco-friendly shopping bag at the bookstore.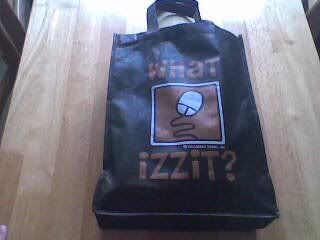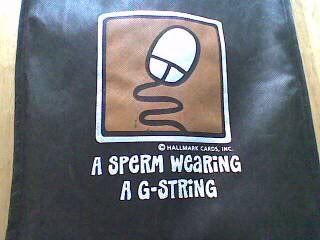 LOL! It's better than the SM green bag.

Lastly, we dropped by Animal House. I've been wanting a new leash and collar but I always forget to buy one. Well not this time.


They only have a small collection.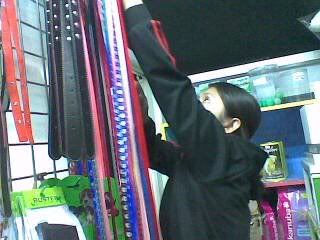 I promise to go to... Cartimar next time. Haha.