Too excited for tomorrow that after my last dog bite vaccine at RITM this morning, I searched Festival Mall and Star Mall Alabang for a bladder and a headlamp.
Bladder because I thought it's more convenient to put inside the rucksack with the hose on my shoulder for easy access, than to carry water bottles on the mesh pockets.
Headlamp because it's a night trek.
Sadly, I wasn't able to find any of the two, in either malls.
When I got back home, Nanay told me to call Ace Hardware and ask for those.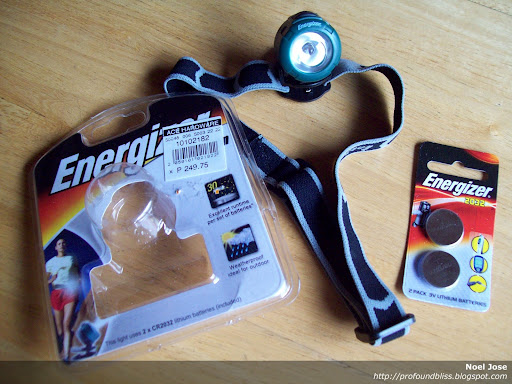 Luckily, Ace Hardware in SM Bicutan had an Energizer mini-headlamp. It runs on 2 x CR2032 batteries so I bought a pair, not knowing that there was an included battery in the package.
Okay lang, I'll save it for future use, or bring it along for back-up just in case.
I don't have a bladder yet. A friend said I should go to Conquer at Robinson's Pioneer. It's so far.