Mt. Maculot is a favorite destination for new mountaineers. The Rockies, being the most popular point of Mt. Maculot attracts newbie climbers because of its friendly trail and friendlier height (706+ MASL).
The summit, though, is a little bit higher (830 MASL) and the difficulty depends on which trail you use. As for adventure-seeking newbies, my friend Danilo and I opted for the more difficult traverse by way of the grotto trail.
We set off last September 20, a Monday, leaving the house at 1 am for our much anticipated first climb together. This was his first mountain, and my second - the first being Mt. Romelo in Siniloan, Laguna.
We arrived at Cuenca a little past 5 am, starving. Good thing there was one open carinderia offering stuff to warm our tummies. So we had a big serving of Lomi for only 35 pesos each.
Asking the store-owner for directions to the local church, we reached St. Isidore Parish just when that morning's mass was about to end. Quite admirably, they hold daily masses there at 5:30 every morning. Only a few church-goers were present, though. But it's still admirable enough that they wake up that early just to attend mass.
We passed by this toll gate slash registration area for those wanting to climb.
When we asked for a guide, the Barangay Tanod told us to go to the store beside the Barangay Hall (of Barangay Tico) a lil farther from the gate. The store also serves as an alternate registration area for climbers.
The guide that the store-owner gave us, though, only wanted to bring us to The Rockies. He discouraged us to do a traverse saying that no one does that anymore and there's no more trail from the summit to The Rockies. Little did he know that we knew someone who did a traverse just a month earlier. After sensing that the guide wouldn't really be convinced to go with us in a traverse, Danilo called his friend (who recently had a traverse). The friend told us to just hire a tricycle to bring us to the grotto jump-off, which we eventually learned was called Barangay Pinagkaisahan.
The locals at Barangay Pinagkaisahan were much friendlier, we didn't even have to ask for guides. Sensing what we needed, they pointed us to the house where a kid named Denver lived. The kid was ever so ready to be our guide. He wouldn't even tell us his fee, leaving it up to how much we wanted to give him.
At exactly 7:11 AM, we started walking towards the grotto trail.
The trail has concrete steps. I could just imagine how full these steps could get during the Lent.
But on most parts, the steps were almost made invisible by towering cogon. And it was so bad that I didn't bring any arm band or leggings to protect my arms and legs.
The stations of the cross were empty but our guide said the locals put religious icons on those stations during Holy Week when lots of pilgrims hike up to the grotto as a form of physical sacrifice. Danilo and I were kinda fast, stopping only to take pics once in a while. At 8 AM, we were already at the grotto.
We took that moment to take more pics, and moreover, to rest. The grotto offers a good view of Cuenca, it was so hot, though, despite the fact that it's not even mid-morning yet.
We decided to move on, after 25 minutes of rest, to our next destination – the summit.
The trail to the summit was steep enough that I refrain from looking back. I don't have bathmophobia, it's just that I knew I'd feel weak in the knees if I looked back down and it's still a long climb.
Three times, the trail had to be aided by ropes because it was really steep. Good thing I packed light and left the heavy dome tent at home.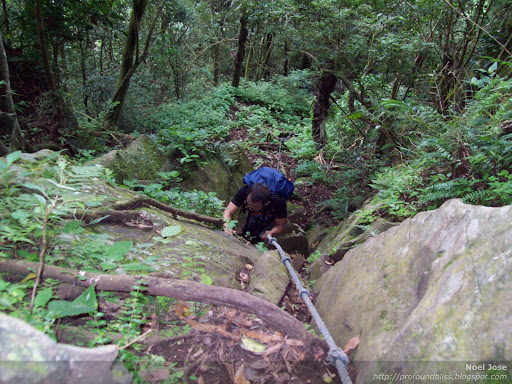 We reached the summit at exactly 9:57 AM. The summit, though, didn't offer any view because it was surrounded with bushes.
This was me with Denver, our 13-year-old guide.
Moving on, we reached the nearby campsite where we had our lunch. It provided us with much needed "refill" and an hour of rest, plus a change of shirt.
At exactly 11:00 AM, we started walking towards The Rockies. The trail leading down was so forested we had to duck and go over tree branches.
But the sights were so cool I had never seen anything like these.
The heart:
Around 45 minutes later, we were rewarded with our first sight of The Rockies. It's that part covered with clouds to the right of the pic.
Then we had to pass by the cogon trail and the grass was again taller than us. The trail was actually almost not there anymore. So that's what the first guide we talked to at Brgy. Tico was saying. But our little guide seemed to really know where he's going cuz no matter how thick the cogon was, we didn't get lost.
At 12:00 noon, we were already at The Rockies camp site. Imagine the heat! And it was quite a dismay that trash (even though collected in one place) were just left there by previous campers as if a garbage truck would come passing by and get them.
Then we headed to see The Rockies. It was the middle of the day; scorching hot, the 1 liter I brought with me was almost gone. Good thing Danilo brought 2 liters and was kind enough to share.
We were having second thoughts on whether to climb the rock formation or not. It seemed so steep from afar and there seemed to be no trail. But since we were already there, I decided to give it a try. We just agreed that we shouldn't force it if we felt like its beyond our capabilities. After all, there're only the two of us and the kid guide. We couldn't really risk it if it proved to be a very technical assault.
But then we were surprised to find out it was very easy. Steep it might be, but it's a very friendly ascent. But being above The Rockies in the middle of a very sunny day was no fun. At one point, we started hearing something popping inside Danilo's sack. He opened it and found out it was his mineral water bottle getting deformed due to extreme heat. So before we suffer from heat stroke, we decided to take quick pics and head back.
Now that's supposed to be the Taal Volcano behind me. LoL! Really hard to take pics in the middle of a sunny day especially with point-and-shoot cameras.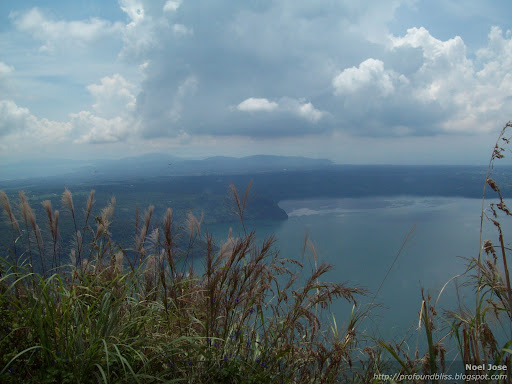 Pics turn out to be either so bright or so dark.
We left The Rockies at 1:05 PM. Still many hours to kill but there's nothing much left to do up there, aside from the fact that we almost don't have water anymore.
One hour and 10 minutes was all it took for us to reach the first stop over – the U.W.A.C. (Unified Wanderers Adventurers Club).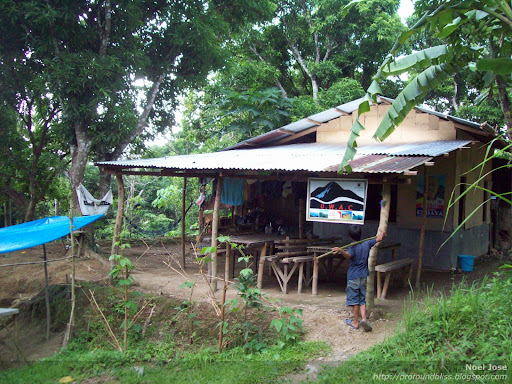 Being a Monday, they don't have anything to offer but colas and mineral water, not even the "Banana Ice" I have so many times read about on the interwebs. But we were able to wash-up for a fee of 15 pesos per pail of water, and eat the boiled eggs my mother woke up early to cook that day.
There were no one else at the stop-over and since it was still very early to hurry up, we took some time to rest our aching muscles. But since I'm a person who gets tired of a place (aside from my house) so easily especially when there's nothing to do, I had to keep going 45 minutes later.
Now, this was the first time we saw this sign since we started the climb in Barangay Pinagkaisahan. Lovely road. I won't call it quaint, but it's definitely a very simple town. Sometimes, I can't help but wish for a life this simple.
Anyway, we reached Cuenca town 3:25 PM where we took a jeepney ride to Lipa. By 4:15 PM, we were already eating as much as our tummies could take at Jollibee Lipa. It was a tiring day after all, and even fast food tasted like heaven.
Bus to Alabang left at 5 PM and we literally slept all throughout the 2-hour ride. I was home by 8 PM. It was by far the earliest I went home after a day-hike.
HOW TO GET TO MT. MACULOT
* Ride a bus to Lipa (Php77.00 from Alabang)
* Take a Cuenca-bound jeep (Php23.00) and asked to be dropped at the town proper
* Walk or take trike to the Barangay Outpost of Barangay Tico for registration Php10.00
* If you're going to The Rockies and you need a guide, you can get one at the store near the Barangay Hall (the store also serves as an alternate registration); but if you're going to the Grotto, go straight to Barangay Pinagkaisahan and go get your guide there.
* If you're doing a traverse, better get a guide at Barangay Pinagkaisahan. From personal experience, no guide in Barangay Tico wants to do a traverse. Better yet, ask for the kid named Denver at Barangay Pinagkaisahan. The kid is initially shy, but becomes friendly after a while. We gave him Php600 for the traverse.
* Don't forget to bring extra food for the guide(s).