Before laziness take away my urge to blog about my recent hike (just like what happened with my Lucban, Majayjay, and Mt. Maculot posts which are still non-existent until now), imma blog about it now.
Two weeks ago, before I even got the allergies and stuff that doomed the first two weeks of my October, I already planned going up Pico de Loro. For one, I wanted to introduce two of my friends to mountain climbing (cuz if they liked it, I'd have more climbing buddies in my future hikes). Secondly, it already felt like eons since I last climbed a mountain (Sept. 20, 2010/Mt. Maculot).
Thursday, after my successful visit to the doctor, I already told Gerald (who's always too willing to tag along) about the climb on Saturday. I normally go out-of-town Sundays but Princess had a vet follow-up Sunday, plus the fact that I don't wanna miss the Sunday mass anymore. Dan, another friend of ours, wanted to go but was hesitant because he partied Thursday night which emptied his wallet.
Kenneth, on the other hand, had a postponed Anawangin climb because Zambales was in a state-of-calamity due to the recent typhoon. He's training for the MLQU Stallions Outdoor Club and Anawangin was supposed to be their third and deliberation climb. Upon knowing that it's postponed, I immediately invited him to join us. And since Kenneth was coming, Dan wouldn't wanna be left out.
The agreed 5 AM assembly became 5:30 AM. I knew it, I should've said 4 AM. We reached the Alabang terminal 6:15 AM but the waiting for the van to leave felt like forever. By 8:30 AM, we were dropped off near the Tanza City Hall since there's nothing in Alabang that would take us directly to Ternate.
From there, we boarded a bus that took us to Maragondon. At 9:15 AM, we were already negotiating with Ino, the tricycle driver. His price, though, was fixed (yes, he wouldn't be moved) at 100 per head.
From Maragondon, he took us to the magnetic hill where the jump-off was but first dropped us at the DENR registration office which was farther along the road than the jump-off. So if you have your own ride you can just skip DENR, but then you won't have a place to park your vehicle. LoL! I kid. But I guess jeepney and tricycle drivers are instructed to bring the hikers directly to the DENR station (and those who brought their own vehicles don't have a choice cuz they will really need a safe place to park). I'm just joking about skipping the DENR registration, though. It's just 20 pesos per head. So small an amount to have a record of your whereabouts.
It was drizzling when Ino brought us back to the jump-off with his tricycle. It's just a 10-minute walk from the DENR office to the jump-off but he's going back that way anyway so he decided to just wait for us while we registered and changed our clothes.
These are Kenneth and Dan's feet. Notice their colorful ponchos. We actually started the trek with ponchos on.
It was exactly 10:15 when we started the trek, our ponchos shielding us from the rain. A few minutes into the trail, though, I felt so loved by nature when the rain stopped. It's harder to walk with a poncho on, not to mention the heat inside one is torture.
Forty-five minutes after, we passed by the Base Camp 1 where Ino's cousin, a woman named Yolly, approached us with a logbook in hand. The two registration sites/fees were already explained to me by Ino while I was seated behind him on the tricycle (aside from telling me that the woman at the second registration/Base Camp 1 was his cousin). So that's another 20 pesos per head, which makes going up Pico de Loro cost 40 pesos.
Yolly further explained to us that they were the rightful collector of registration fees because 25% of their collected fees go to the local barangay. I quite understood it, though, when she told me in passing that the jump-off as well as the DENR office are part of Ternate, while the Base Camp 1 is on the side of Maragondon where Pico de Loro actually is. It doesn't justify the 2 registration fees, but it kinda explains that Ternate also wants something out from the mountaineers since the jump-off is in their town even if the mountain itself is part of another.
It was an easy trek after the base camp to the falls, though it took us exactly an hour before reaching the campsite near the falls due to photo ops and a little rest by the stream just before we entered the what seemed to be a fenced private property.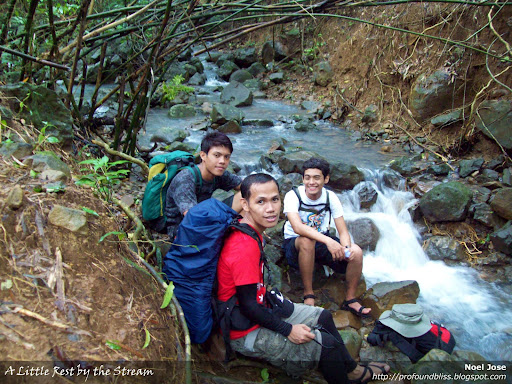 We reached the campsite near the waterfall 11:50 AM. From there, we clearly saw the summit and it's famous parrot's beak shape.
And since the sound of the waterfall could be clearly heard from the campsite, we immediately rushed to see it, ignoring our grumbling tummies for later.
And the three teens I was with couldn't help but jump in the cold water for a quick swim. As much as I'd like to, I didn't dare swim cuz I had a fever the previous night (thanks Biogesic, by the way).
And then there's the mandatory back pic. LoL!
This post, though, is getting long it's gonna be hard to read. Imma post the 2nd part of my Pico de Loro climb tonight. But the truth is, I still haven't gone to vote. Today's the Barangay Election and I only have 2 hours left to do it.
Edit:
Click here to read Dayhiking Pico de Loro (Part 2).